Brookfield, Illinois, a quaint little village 13 miles west of downtown Chicago, is as beautiful as it sounds. Spanning only 3.1 square miles, the picturesque village of Brookfield emanates a vibe of a friendly, close-knit, family-oriented community where neighbors know each other by name.
Chicago magazine, in 2013, named Brookfield as being one of the top places in metro Chicago for first-time home buyers.
Brookfield is a serene, stable, well-established suburb in Cook County with easy access to airports, buses, highways, and trains. Its distanced enough from the city to allow for a secure, hushed lifestyle – and yet close enough to appreciate the Chicago skyline along with all the amenities and creature comforts of city life.
The village is known for its outstanding schools, convenient transportation, the extensive network of parks and programs, an excellent library, and low taxes.
While the village, with its immaculately manicured carpets of grass and vibrantly colored canopy of trees, is tucked away from the mainstream, but it still offers plenty of recreation via the Brookfield Zoo, the Galloping Ghost Arcade, shops, restaurants, bars, and more.
Things to do in Brookfield, Illinois
The gem of Brookfield may well be the Brookfield Zoo, with around 450 species of animals in an area that stretches 216 acres.
The zoo is chock full of learning opportunities and recreational activities for guests and residents of all ages. The zoo, open every day throughout the year, is managed by the Chicago Zoological Society.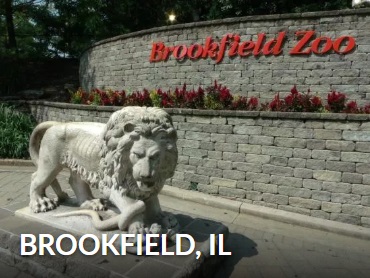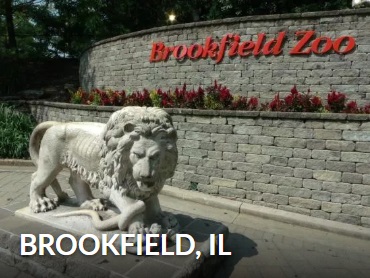 The Galloping Ghost Arcade is the nation's largest video arcade boasting more than 550 video and pinball games.
With humble beginnings restoring dilapidated games, the arcade has evolved to be a local hot spot for gaming and for special events. For a flat rate of $20, you can play all the games all day without the use of quarters or tokens.
There are also a plethora of annual community events at North Kiwanis Park including Battle of the Bands, the Brookfield Fourth of July Parade, Fall Fest, and German Fest.
The oldest structure in Brookfield is the Grossdale Train Station, which now houses the Brookfield Historical Society. Dating back to the 1880s, the station is a great place for history buffs to explore.
Brookfield's largest park is Jaycee Ehlert Park, but there are a variety of parks, open spaces, and preserves for enjoying the great outdoors.
Although Brookfield is close to Chicago, which offers the world at your fingertips, the village has its own impressive collection of shops, boutiques, restaurants, coffee shops, and special events.
Homes for Sale in Brookfield, IL
Schools in Brookfield, IL
There are two highly rated schools in Brookfield: Brook-Park Elementary School and S.E. Gross Middle School, both governed by the Brookfield-LaGrange Elementary School District 95.
Additional districts servicing  Brookfield students include Riverside School District 96, LaGrange Elementary School District 102,  Lyons School District 103, and districts 204, and 208.
Public Transportation in Brookfield, IL
Metra's BNSF Railway line connects Brookfield to the Chicago, Burlington, and Quincy and serves three stations in the Brookfield area including Congress Park Brookfield, and Hollywood.
Brookfield is also serviced by buses via Pace bus service and common trollies. There are two international airports within minutes of Brookfield, so travel by air is easily accessible.
Related: Opting for new home construction
Climate in Brookfield, IL
Brookfield has the benefit of experiencing all four seasons in vibrant color, peppered by mature trees, creeks, and oak savannas.
Summer high temperatures in Brookfield, IL hover around 84 degrees while winter lows drop to a frigid 18 degrees. The quaint village receives about 39 inches of rain per year, and 32 inches of snow.
Living in Brookfield, IL
There are approximately 18,694 people living in the 60513 and 60546 zip codes that comprise the village of Brookfield.
Among the nearly 19,000 residents, the estimated median income is $81,000. Median home values are estimated at $354,677.
The median income and the median home value in Brookfield are significantly higher than the state's averages.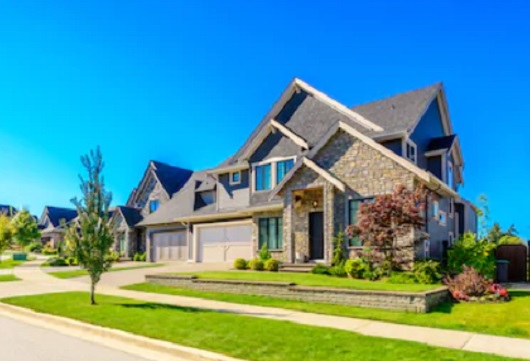 Conclusion
Life in Brookfield is of storybook quality. Residents, most of whom own their homes, pride themselves on community spirit with a high focus on friendliness, safety, serenity, and family values.
Honored as one of the best places to live in Illinois, Brookfield offers its residents a comfortable, open, suburban vibe away from the congestion of the city, yet with the Chicago skyline still in view and its amenities just minutes away.
Have Questions? Ask Rory & Partners!
Give us a call today at (773) 425-9942 to learn more about local areas, discuss selling a house, or tour available homes for sale.