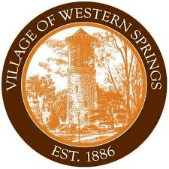 Western Springs is ideally located just outside of the City of Chicago, while still remaining far enough away to be nestled among a variety green spaces and forest preserves. With Chicago and its surrounding suburbs, there is a plethora of fantastic restaurants and entertainment to choose from. If you are looking to stay in town, Western Springs is home to some great options as well. From French and Italian cuisine to American, delicious bakeries and more, there is sure to be something that hits the spot.
Western Springs Police Department
740 Hillgrove Ave, Western Springs, IL 60558
Phone: (708) 246-8540

Western Springs Fire Department
4353 Wolf Rd, Western Springs, IL 60558
Phone: (708) 246-1182
New residents should register vehicles within 30 days of moving to Western Springs. Vehicle stickers are also required for trucks and motorcycles. Renewal notices are mailed each year in March and expire April 30.
Once your vehicle information has been received in the mail, residents are strongly encouraged to purchase stickers online to reduce the number of non-essential visitors to Village Hall.
You can also complete the fillable PDF form at https://www.wsprings.com/DocumentCenter/View/6963/2021_WS_Vehicle_Laser_App_Form-MASTER?bidId= print, and return with payment to Village Hall, after which stickers will be mailed. Mail completed forms with payment to, or use the drop box at Village Hall. "
Lakeshore Recycling Systems (LRS), is Western Spring's waste and recycling contractor. Residents may choose between 35, 65, and 95-gallon waste and recycling carts, and whether they would like curbside or backdoor refuse collection. The fee for service, based on the size of container and type of service, will be billed directly by LRS.
Stickers will only be required for refuse outside of the cart, special collections, or bags/bundle of landscape waste.
To set up a new account or to make any changes, please go to https://www.lrsrecycles.com/westernsprings/




Recreation Department
1500 E Walker Street Western Springs, IL 60558
Ph: (708) 246-9070
https://www.wsprings.com/199/Recreation
Western Springs Recreation Department looks to provide their residents and surrounding communities with healthy, creative options and learning experiences whereby people can meet, share and unite in a community of common interests and ideas; and to provide aesthetically pleasing, safe and properly maintained facilities for programs and activities. The Western Springs Recreation Department coops with other park districts and recreation departments to offer additional activities. Western Springs residents receive resident rates from the other organizations.
Property tax information:
Thomas Ford Memorial Library
800 Chestnut St.
Western Springs, IL 60558
(708) 246-0520
info@fordlibrary.or
What newspapers serve the Western Springs area?
There are multiple online and print news resources that serve the Western Springs area. My Suburban Life offers online and print subscriptions. The Doings Western Springs covers suburban news for the Chicago Tribune. The Western Springs Journal is delivered to households bi-weekly. The Patch is an online news source that reports local items of interest. The two regional papers are the Chicago Tribune and the Chicago Sun-Times.
What public transportation provides service to downtown Chicago?
The Burlington Northern Sante Fe (BNSF) railway provides 25 minute express and 36 minute local service to Chicago's Loop. Learn more and view schedules at: https://metrarail.com/.
What local hospitals serve the Western Springs area?
Amita Health Adventist Medical Center has hospital facilities in the communities of La Grange and Hinsdale, respectively. Loyola University Medical Center is in nearby Maywood, with local health centers in Burr Ridge and La Grange.